Take your cooking to the next level, with the iQ700 HB676GBS6B Oven from Siemens. This stainless steel built in oven uses smart technology and a range of intelligent features designed to enhance the cooking experience and make life easier.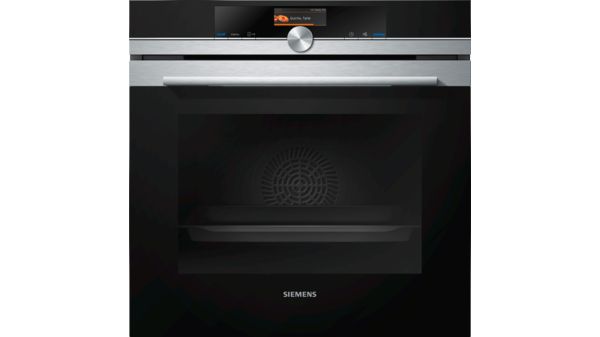 Intuitive Cooking
Cooking has never been so smart. Featuring some of Siemens' most advanced cooking technology, the HB676GBS6B makes cooking delicious food a pleasure, rather than a daily chore. With a full colour 3.7" TFT Touchdisplay, including temperature display, heating up indicator and a user friendly menu, you'll get a clear view of your oven's settings, giving you control.
With advanced connectivity, your oven can connect directly to your home's WiFi. And with the Siemens Home Connect app on your tablet or smartphone, you can control your oven from anywhere. One of our favourite features of the Home Connect app is recipeWorld. Choose from a huge selection of delicious recipes and transfer the cooking instructions straight to your oven via the app. So, you'll be able to achieve perfect results the first time and every time.
Innovative Features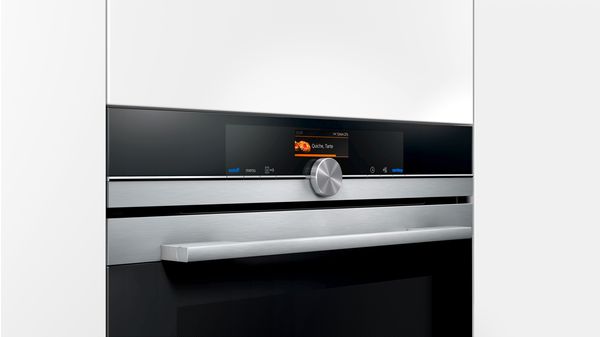 The engineers at Siemens have thought of everything it seems when designing the HB676GBS6B Oven. With a range of innovative features that seriously enhance your cooking experience. From the oven's softMove door's gentle opening and closing, to coolStart technology, removing the need to preheat your oven for cooking frozen food. While activeClean® technology keeps your oven clean and in excellent shape without you having to so much as lift a finger.
There's also a range of important safety settings included, making the HB676GBS6B extra safe for busy households. Tamperproof controls prevent little ones from altering cooking settings or hurting themselves. The HB676GBS6B comes with an automatic safety switch off and a residual heat indicator, designed to protect you and your loved ones. And the oven's coolGlass door makes it extra safe and cool to the touch.
The HB676GBS6B also comes equipped with a special Sabbath setting, allowing you to enjoy hot food, while still correctly observing the Sabbath. The setting, which is also handy for keeping cooked food warm, keeps the oven temperature between 85ºC and 140ºC for up to 73 hours, without the need to operate the oven.
Efficient Heating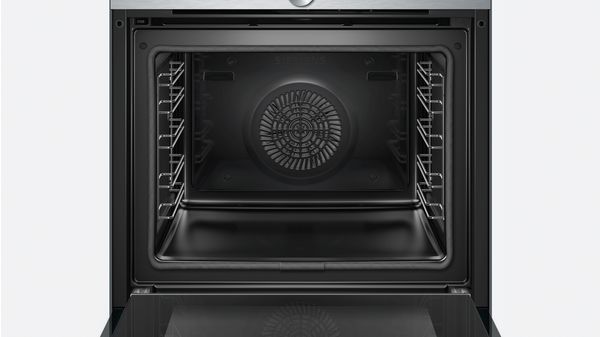 Featuring fast preheat, the HB676GBS6B helps cut down your cooking time, making meal preparation much more efficient. While 4D hotAir technology ensures heat is evenly distributed throughout the oven's spacious 71 litre cavity, cooking food thoroughly and preventing flavour transfer, allowing you to cook multiple dishes at once.
The HB676GBS6B comes with an incredible 13 different heating methods, including 4D hotAir, full width grill, plate warming and conventional top and bottom heating. There's even a special setting for pizza, perfect for those who love a thin crust or deep pan.
Siemens have engineered an oven that saves time, energy (the oven comes with an A+ energy rating) and offers a host of features designed to make cooking a joy. Whether you're an amateur chef, a passionate baker or a busy parent, the HB676GBS6B Oven from Siemens is a fantastic kitchen addition.
Order yours today from Ian Black Domestic Appliances. We offer excellent customer service, combined with great prices on all Siemens appliances. Collect from our store or choose delivery and installation, anywhere across Hull. For more information on this or any of our products, get in touch with a member of our team today.