Now 2019 and its festive period is over, here we are in 2020 ready to buck up our ideas and try to trim down the waistline that's expanded over Christmas. While Christmas Dinner is usually a home-cooked affair the remainder of the period is littered with quick, easy treats. Even if you haven't officially made a New Year's Resolution to lose weight we can bet it's still on your list of things to do!

Or perhaps your New Year's Resolution is too simply eat better? If you're looking to increase the amount of nutritious and home-cooked meals in your diet in 2020 then there are plenty of ways to do so. Increasing your cooking skills is essential to this, and with the advent of YouTube and online recipes honing your knowledge of dishes is surprised.

But once you are confident in your abilities, the next step to great home-cooked food is an appliance that works with you to get a perfectly cooked meal. Upgrading your oven is a no brainer, especially if you are cooking more healthy meats like fish and are looking to produce a delicious end product.

One oven you may want to look into is from the German brand NEFF, which is renowned for its innovative features and outstanding quality. In this review Ian Black Domestic Appliances run through everything you need to know about one of NEFF's outstanding models, the J1ACE2HN0B oven.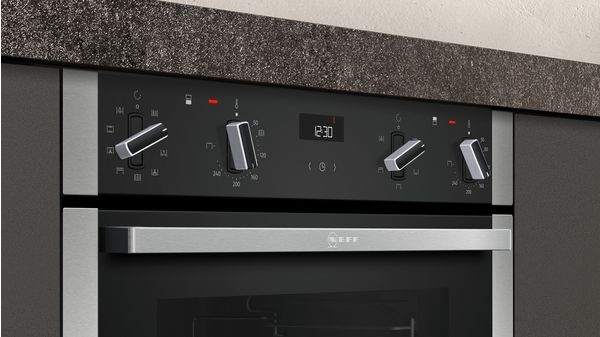 Cook Any Dish, Perfectly Every Time

As an innovator in creating new, improved ways of cooking food NEFF has developed its own unique system. With its CircoTherm technology hot air is channelled and direct to give better cooking and more flexibility when creating several courses at once. As a double oven, this means you could cook four dishes at once using both cavities, and all with their own unique flavours!

By pushing the hot air to the back of the main cavity, the oven can then channel this directly to the food inside. This creates an envelope of hot air on each of the three levels of the J1ACE2HN0B. Cooking a starter, main and dessert all at once are as easy as adding them and leaving them to bake perfectly, the CircoTherm system means flavours will never intermingle.

As well as the conventional CircoTherm, NEFF has also created two additional dedicated modes using this technology. For cooking foods that require a crisp base, such as blind bake pastry, there is CircoTherm Intensive which combines the direct hot-air at three levels with bottom heat. This ensures a perfectly even finish that will take your dessert to the next level, Intensive also creates a deliciously crispy base on a homemade pizza whilst cooking through your toppings.

Then for a more delicate finish, there is CircoTherm Gentle which uses alternation between direct and residual heat. By avoiding blasting your dish with constant, harsh heat you can cook fish perfect without developing browning or an unappealing crust.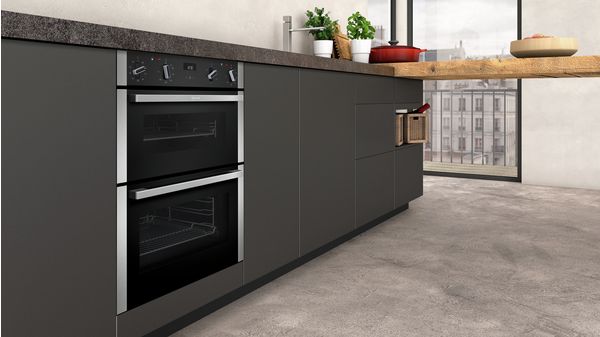 Cleaning Made Simple

Even the most passionate cooks hate the clean up after eating a delicious home-cooked meal. The J1ACE2HN0B comes equipped to massively reduce the amount of time you spend on your knees scrubbing your oven's interior. With EasyClean you can keep on top of your regular cleaning schedule.

Using EasyClean is simple, add some warm water with dishwasher liquid then select the mode on the touch control panel. Once completed, you can dry the interior of your oven using the oven's built-in Dry function.
To find out more about the J1ACE2HN0B contact us at Ian Black Domestic Appliances, and for information on our flexible delivery options in the

Hull area

. Call us today on 01482 847279, or
if you wish to find out more about the
J1ACE2HN0B Oven
visit our website for more information.