The kitchen is the centre point of the home. If you really love cooking, you likely find that family catch-ups happen regularly and great food is made amongst the social wonder. Even for those that do love creating delicious meals, doing so without the correct equipment can not only make cooking more stressful but also yield less than desirable results.

If it sounds like this is already the case in your home then it may be time to upgrade your oven to one that works with you. This means not only getting one that fits into your home's aesthetic but also an oven that is packed with features that help you achieve perfect results every time.

If you are looking to replace your oven, one brand that must be at the forefront of your mind if you love food is NEFF. The German manufacturer not only has a reputation for outstanding build-quality but also for creating features in their cooking appliances that make creating delicious meals consistently simple.

We've run through one of the leading models in the line-up to ensure that you can see what NEFF can do for you when you cook your next meal. The B6ACH7HN0B Oven is perfect for all but the largest families, in this review from Ian Black Domestic Appliances we cover everything you could possibly want to know about this single oven.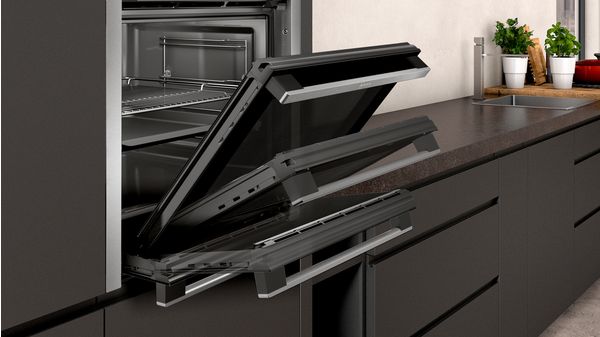 Designed With Chefs In Mind, Inside and Out
The most iconic thing about a NEFF oven is the Slide&Hide door. Regular viewers of the Great British Bake Off will recognise this clever piece of design, as used by the 2019 contestants when creating their bakes in the tent. Created using a series of intricate hinges this allows your oven door to tuck away, leaving it integrated below the main cavity.

Using this innovative system is simple, the multiple hinges mean the effort is kept at a minimum. The rotating door handle means that you can open and close the oven door with one hand, perfect for adding and removing awkwardly sized dishes!

The NEFF creative design ethos doesn't stop there when it comes to the actual cooking of food. Packed with cooking functions, the B6ACH7HN0B is built from the ground up to be effective and versatile in the kitchen. You get all this and more with CircoTherm.

With CircoTherm you get to have three distinct ways to cook, as well the traditional function these are the Intensive and Gentle configurations of this unique function. The former combines the described focussed cooking with the bottom heat function, which can also be used as a stand-alone cooking function, this makes it perfect for producing crisp bases on dishes like Pizza.

Meanwhile, the CircoTherm Gentle is ideal for cooking more delicate dishes such as fish by cooking in phases. The oven will blast heat intermittently, using the residual heat in between these to reduce browning but still produce succulent results.

In total, the NEFF B6ACH7HN0B comes with 8 unique cooking functions, CircoTherm, CircoTherm Intensive, CircoTherm Gentle, Top/bottom heat, Hot air grilling, Full surface grill, Bread baking and Bottom heat. With flexibility like this even the most seasoned of chefs will struggle to come up short when using this oven, there is a function for any and all occasions.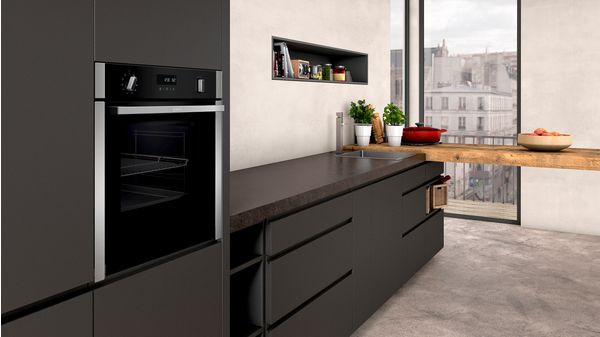 Cleaning For Any Occasion
Even if you love cooking there is one aspect that no one enjoys, the cleaning up afterwards. This latest NEFF model works with you to reduce the amount of effort when grime has built up in the cavity. Many modern ovens come equipped with one form of cleaning cycle, however, the B6ACH7HN0B actually has two.

Firstly for everyday cleaning, there is EasyClean. This clever system helps keep spills and lost pieces of food from accumulating in the cavity. Starting EasyClean is as simple as selecting the correct mode, adding some lukewarm water with a touch of washing up liquid. Once added just set the NEFF to do its work, when you return wipe away the soapy residue for a refreshed interior which is ready to use again.

Beyond day-to-day maintenance, there is also the Pyrolytic cleaning mode. This is ideal for eliminating even the most baked in of stains, reducing the unwanted grime into ash that can be easily wiped away. Activating Pyrolytic mode locks the oven door and blasts the cavity at over 400 degrees, with the Clip-on Rail system you can remove all runners and trays to keep them in perfect condition.
To find out more about the B6ACH7HN0B contact us at Ian Black Domestic Appliances, and for information on our flexible delivery options in the

Hull area

. Call us today on 01482 847279, or
if you wish to find out more about the
B6ACH7HN0B Oven
visit our website for more information.