Cooking around Christmas time means many things, presents, classic festive songs being played on repeat and also cooking for a boatload of people! Even the most passionate home chefs can get overwhelmed at this time of year. Juggling vegetables, roast potatoes and the turkey that is far to easy to dry out, and finding time for family in between is one of the season's toughest challenges.

Ensuring that Christmas Dinner is one to remember means sourcing the best ingredients, perfecting cooking times but also having the best equipment possible to get the job done. The appliances in your kitchen play a larger role in success than you may think and owning an oven you can rely on is just as important as getting quality produce.

If you're looking to upgrade your kitchen's oven, then selecting a model that is equipped for Christmas day, and all the days following is important. One brand that is well equipped for the passionate foodie is NEFF. With even the entry-level models you get a guaranteed outstanding German build-quality and class-leading features.

However for those of you that want an oven that is truly equipped for all occasions and also ready to take your food to the next level, then a more advanced NEFF oven is for you. In this review from Ian Black Domestic Appliances, we break down the key features of one of these, the NEFF B58VT68H0B single oven.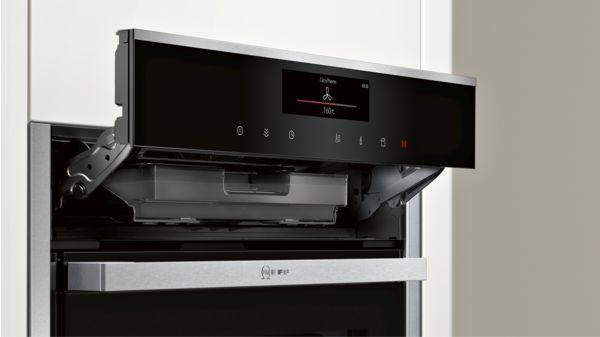 Cooking For All Occasions

The eye-catching feature of this model is the VarioSteam function. Offering a completely different way to roast, bake and heat up leftovers. The amount of steam can be altered to three levels depending on your needs, so cooking anything from meats to desserts gives perfect results every time. Your Sunday roast joint is kept succulent and tender, using the gentle cooking method.

Even when cooking more everyday meals the B58VT68H0 is designed to give outstanding results, and allow you maximum flexibility. CirocTherm cooking is unique to NEFF ovens and designed to make cooking simple, whilst keeping your food perfectly cooked.

Of the 14 cooking methods built into this latest model, 3 of them utilise this latest technology. By channelling the heat of the oven into the back of the cavity, ready to be focused through vents at three different levels. This technology means that you can simultaneously cook three dishes at once, thanks to the envelope of hot air that wraps around each dish.

Using the CircoTherm functions means you can prefer a starter, main course and a dessert all at once. The NEFF B58VT68H0B features three variants of this mode, including Gentle and Intensive. The former is ideal for cooking delicate meats using the residual heat from the oven, while CircoTherm Intensive gives the perfect crisp finish to a pizza by combining the function with bottom heat.

Other handy methods of cooking with this NEFF oven include Dough Proving and Bread Baking modes, meaning your homemade loaf is perfectly risen and cooked every time. This model also features multiple grill cooking options, meaning you can conserve energy by only heating what you need whilst retaining amazing results.

This single oven even has a built-in Multi Point Thermometer, adding this to your roasting meat means you can not only monitor the internal temperature for the perfect finish but also that the oven itself can alter the heat automatically to avoid under or overcooking.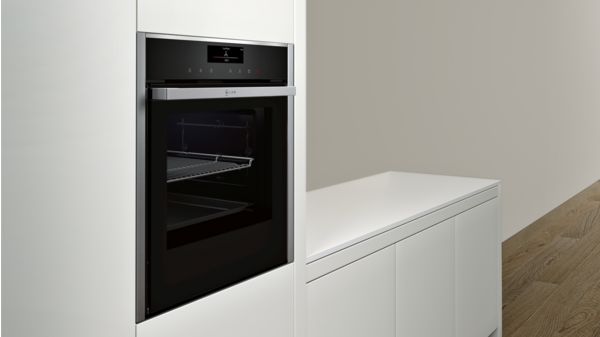 Intelligent Design

Those that love cooking shows will likely have seen the most iconic thing about a NEFF oven many times already. Loved by many chefs, the Slide&Hide oven door is seen on numerous shows, including the Great Brtish Bake Off. This clever hinge system means the door can be tucked away under the cavity for the easiest possible access, perfect for busy home chefs that remove and add multiple trays or need to rebaste meats.

Keeping this model clean is also made simple. Even the most passionate of home cooks hate cleaning the oven after multiple cooking sessions. With not one, but two dedicated cleaning modes, the NEFF is equipped to make everyday maintenance as simple as possible.

EasyClean is a great mode for everyday upkeep, with a quick cycle time that means you can be back using your oven in less than half an hour. At the start of this cleaning cycle, all you need to add is 400ml of water and a few drops of washing up liquid. Once completed a quick wipe down with a cloth is all you need to get started cooking again.

After a week or two of daily use, or after a spill inside the cavity, you also have the more thorough Pyrolytic Cleaning function. This mode blasts baked in grime at over 400 degrees over an extended period, this reduces all residue to ash that can simply be wiped away once the cycle is completed.

Selecting your ideal cooking or cleaning mode is easy, with the B58VT68H0B's FullTouch Control panel. Using the intuitive 5.7-inch colour display makes browsing, customising and starting your next meal is as simple as a few swipes.
To find out more about the B58VT68H0B contact us at Ian Black Domestic Appliances, and for information on our flexible delivery options in the

Hull area

. Call us today on 01482 847279, or
if you wish to find out more about the
B58VT68H0B Oven
visit our website for more information.