The Hotpoint SA2 540 H WH Built-in Oven is a brilliant way to take charge of your dining and explore brand new recipes, no matter how messy they are, thanks to its 66L capacity and impressive self-cleaning system. With a new style of convection system, pushing heat into every inch of the oven cavity, you'll be able to produce consistently even, delicious dishes every time - whichever shelf you're using. What's more, the oven also matches its cooking capabilities with an equally impressive 'A' energy rating.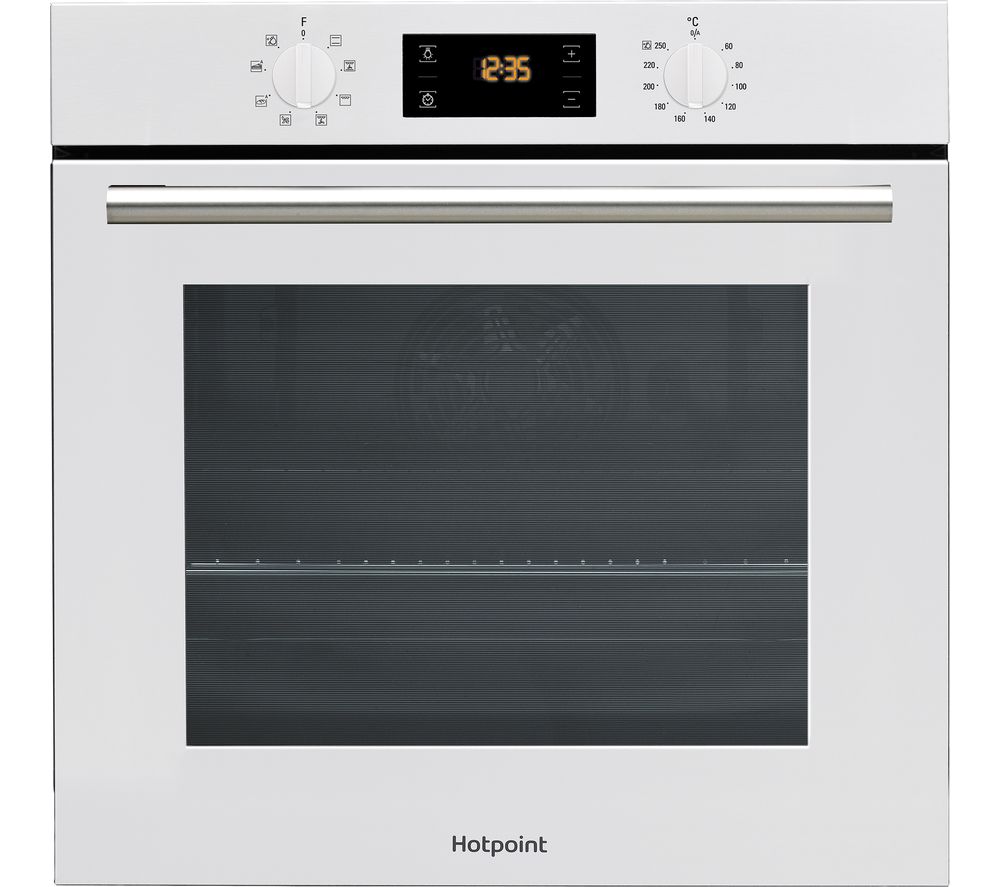 Hydro-Clean
The Hotpoint SA2 540 H WH Oven also comes with an intelligent 'Hydro-Clean' feature. This feature uses steam to clean away all the unwanted spills and splatter inside your oven, which would usually be tough to remove by hand. All it takes is for you to pour some water into the base of the oven and select the '35-minute self-cleaning' programme. The oven then heats up, creating steam to loosen any baked-on fat or food residue. Once the oven has cooled down, wipe it and it'll be sparkling once again - saving you hours of scrubbing!
Electronic Temperature Control
Also featured on the Hotpoint SA2 540 H WH Oven are intelligent temperature sensors, which minimise temperature changes to within only +/- 2C throughout the whole oven. The temperature is also easily operated through electronic control, with seven traditional and two automatic functions including BBQ, Baking and Eco - providing you with the perfect temperature for cooking your favourite ingredients and meals.
Multiflow Technology
Other features include the innovative 'Multiflow Technology' which distributes constant and even heat around every corner of the oven. No more burnt edges and raw middles, just perfect cooking results every time. An ideal choice for perfectly risen cakes and bread, plus reducing cold spots in your favourite dishes.
For passionate foodies, Hotpoint is the perfect brand, coupling outstanding build quality and clever functions, however you still require great customer service and delivery options in Hull. At Ian Black Domestic Appliances you can get the Hotpoint SA2 540 H WH Oven with great service and a guaranteed excellent price, click here for more information.