Experience energy efficient drying performance with the Bosch Serie 6 WTR88T81GB Tumble Dryer. This spacious 8kg dryer is perfect for busy households. Featuring economical heat pump technology. Saving you time, money and energy throughout your laundry routine.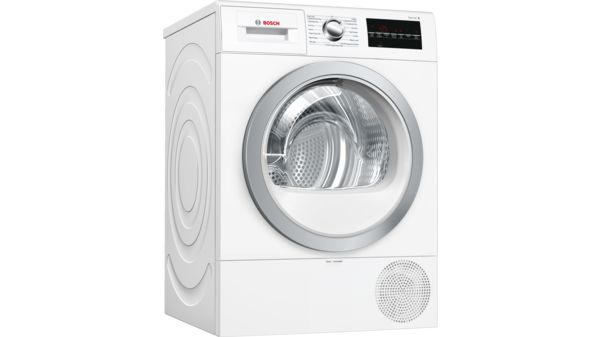 Ultra Energy Efficient
Heat pump tumble dryers are widely known for their energy efficiency, and this dryer is no different. In fact, the WTR88T81GB comes with an A+++ energy rating, making it one of the most eco friendly dryers on the market today. When you've got a ton of laundry to get through, the costs of running a tumble dryer can soon mount up. Fortunately, this machine's low energy consumption means you can enjoy fast drying power, while saving money and helping the environment, too.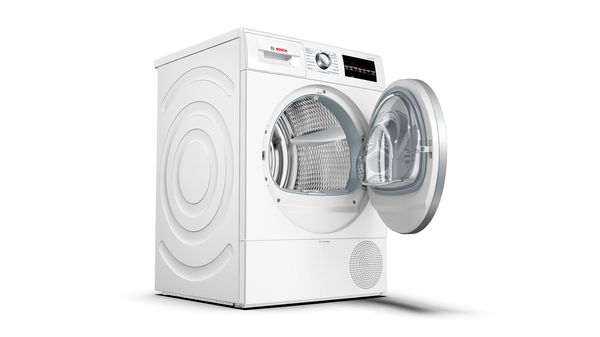 Perfect Drying Results
Whether you want clothes dry enough to wear or just dry enough to iron, thanks to AutoDry, you can easily achieve the exact dryness level you're after.
AutoDry uses smart sensors to monitor the temperature levels and dampness inside the drum. It cleverly adjusts the settings and time to ensure clothes aren't overdried or overheated. So, you won't have to worry about your favourite jumper or pair of jeans shrinking during the cycle. And, you'll end up with clothes that are dried to just the right level. AutoDry is gentle on clothing and other fabrics. Giving you peace of mind when it comes to taking care of those special garments.
Need clothes ready to wear in a hurry? Take advantage of the Quick 40' drying program. For dry clothes that are ready in next to no time.
There are 11 different programs to choose from. So, whatever needs drying, there's a program for it. Making getting through the laundry simple and stress free.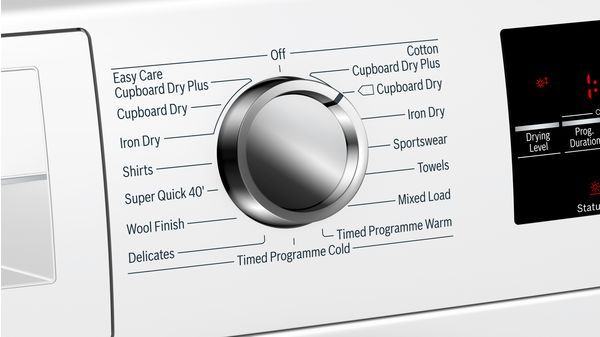 Gentle on Clothes
Thanks to the machine's Sensitive Drying system, your clothes are in the best possible hands. The dryer's unique drum structure softly rotates clothes, with gentle, even air currents ensuring they get a thorough dry. So, you won't be left with any damp patches on your clothes.
There are even special programs to take care of your more sensitive items, including a Delicates setting and a Woollens setting. And for outdoor wear, you can rest assured your expensive sports gear is protected, with the dedicated Outdoor+ cycle.
The machine's AntiVibration design also ensures a stable, quieter cycle. Featuring a special design, the dryer remains stable and less prone to vibration, even when at the height of the drying cycle. This protects your clothes and your kitchen floors!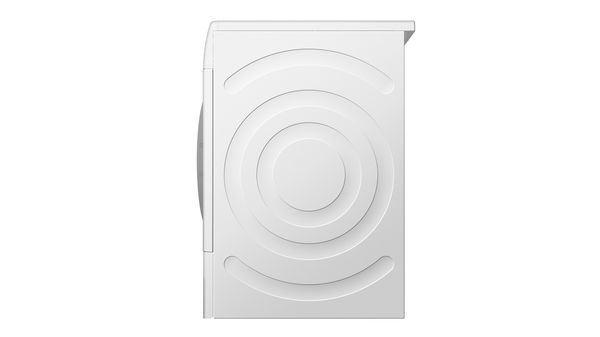 Helpful Features
And if that weren't enough, the WTR88T81GB also comes with a ton of helpful features to make laundry time easier. From the easy to read LED display to the handy Reload function. Set your cycle to go whenever suits you with the machine's 24 hour time delay feature. And prevent little hands from playing with your settings with the convenient child lock. There's even a button for reduced ironing, delivering a special anti-crease cycle at the end of the program. Saving you time and energy.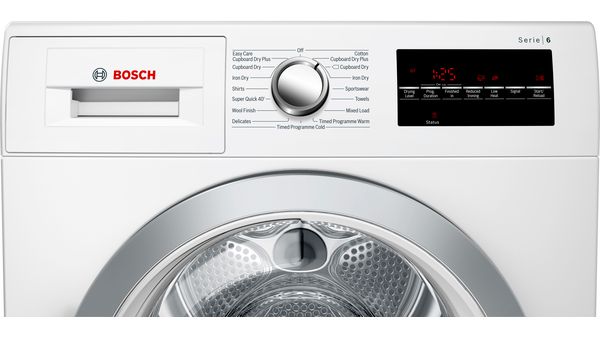 Order your brand new Bosch WTR88T81GB Tumble Dryer online or by phone from Ian Black Domestic Appliances. We offer delivery and installation throughout Hull. To learn more and to see product details, visit our product page, or give us a call to speak to a member of our friendly team.